Icons for Mail Master web service
We vectorized current icons and made extra icon in current style for Mail Master web service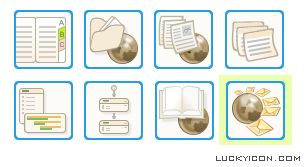 About WebAsyst
WebAsyst LLC is an international team of software experts that has more than 15 years experience (or more than 350,000 hours, if you prefer) in developing custom software solutions for business and other large enterprises. Drawing upon this vast knowledge base, the company now specializes in the development and hosting of web-based solutions for business and organizations.
We are committed to making high quality software accessible, easy to use, and cost effective for small and medium businesses. Creating software which is simultaneously user-friendly and feature rich is our purpose.
Warning! Graphic images herein are displayed for reference only.
You can't use them in your programs, but you can order the design of your own graphic images.